When we returned to the villages to continue our work after Ebola, patients were afraid of us. We had to hold community meetings before confidence could be built.
We had to talk about Ebola and the fear of being infected again, and it was good to talk about it. Everyone wanted to be on the safe side. Then eventually, it was safe to continue the work we had started before the outbreak.
We treated everyone in areas at risk of river blindness, then went back to test if it had worked. When we came a second time, months later, people knew we were OK. They started to have interest. They trusted us.
Now everyone is excited to see us. "You are back!" they all shout. They remember the free examinations and treatments. If I go to those villages now, I am treated like a king."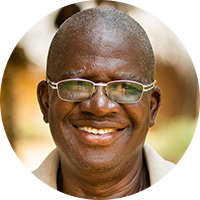 Lincoln Gankpala
Lincoln is a health technician from the Liberian Ministry of Health, and works on river blindness treatment projects organised by Sightsavers.
This story was originally published by Thompson Reuters Foundation. All images © Sightsavers/John Healey.