Did you always want to lead an organisation – was that always an aspiration?
I can't say it even occurred to me until the opportunity arose. I always wanted to be successful and was competitive academically (but not at sports, where I was useless). I didn't actually lead a whole organisation, rather than a subsidiary or department, until Sightsavers, when I was 45.
Which of Sightsavers' achievements are you most proud of?
So many things. I could list some of the huge advocacy achievements, especially in disability, or the transformation of the NTD space where we are now playing a leading role. Inspiring donors who never used to support us to look to our cause, both governments and philanthropists. Realising how many people we have helped – more than 10 million eye operations altogether. But if you ask me what I will look back on, it will be the people I have met and particularly those I have worked with. There is something special at Sightasvers – both in the UK and across our country offices – where people are extraordinarily dedicated to what we do, and so excited by how far we have come.
What does your typical day look like?
There isn't one. I could be meeting donors, sharing what we have already done with their money and hoping to get them to give more. Or visiting a programme to see how things are going. Or preparing for a board meeting to ensure our trustees are properly informed. Or talking with my team (or indeed their teams) about decisions to be made, new opportunities to be followed up or indeed problems to be solved.
If you had to choose a photo that illustrates why you do what you do, what would it be?
There are so many beautiful photos. There are some images of people whose sight has just been restored, which are the absolute epitome of joy. Or the tragic photo of a girl with disabilities trapped in terrible loneliness because she was never allowed out. Unintentional cruelty brought about by ignorance. I will also never forget the image of Professor Stephen Hawking giving a keynote at our celebration of a billion treatments, when you could have heard a pin drop. It was his last public appearance and the more poignant for it.
How has Sightsavers transformed since you became CEO?
Sightsavers has been transforming for many years. Sir John Wilson built it from nothing into an organisation that, in a paraphrase of his words, 'was able to change the world but be relevant to people in an African village'. Dick Porter took it forward, building up a base of committed supporters, many of whom are with us today. I have been able to stand on their shoulders and take it to an organisation which has a wider reach, a deeper impact and yet remains one which changes the lives of the most marginalised people – not just by the million but one by one.
---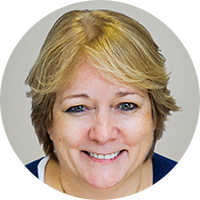 Caroline Harper
Caroline is Sightsavers' global CEO, a role she has held since 2005. In 2015 she received a CBE for services to people with visual impairments. More about Caroline